K.K.Downing
Kenneth "K. K." Downing, Jr. (born 27 October 1951) is an English Grammy Award winning guitarist, songwriter and a founder member of the British heavy metal band Judas Priest.
He played guitar with the band for 40 years finally stepping away from the band before their "Epitaph" tour in 2011. During those 40 years Priest created several timeless metal anthems, from "Victim Of Changes" and "Hell Bent For Leather" to "Breaking The Law" and "Painkiller." By 2011 Priest had sold over 45 million records worldwide. Downing with Priest's other guitarist Glenn Tipton have set the standards for heavy metal guitar playing. Their distinctive guitar sound became a trademark in the field with K.K.'s more wild bluesy style perfectly complementing Tipton's melodic output. Their classic twin leads and grinding riffs are one of the most played pieces in today's young guitarists rehearsal rooms.
K.K. in his own words...
On the secret of Priest's song writing...
"I think we always prided ourselves, first and foremost, on the songs. We've always tried to put some music together that would stand the test of time. If you listen to Priest's most successful records, whether it's "Living After Midnight" or "You've Got Another Thing Comin'" the lead work is very simple. Even now, I don't think Glenn and myself have anything to prove as guitar players. If we thought a song could stand on its own with no lead work at all, we wouldn't bother putting anything on."
On tributes and fans...
"All those years ago when i was starting up as a snot-nosed kid wanting to be a guitar player; the best i could hope for was maybe breaking out of my local town. I never imagined bands would say that our music inspired them. It's a great achievement to actually influence other people. I consider myself fortunate."
On heavy metal and Priest's part in the genre...
"We're proud to be part of the heavy metal genre that is known around the world. It's a form of music that is here to stay, because whether it's blues, jazz, funk, classical, pop, whatever it is – heavy metal is a part of that. None of those types of music will go away and become extinguished – and neither will heavy metal. I'm confident of that. It's etched in stone."
On the future and musical goals...
"Before i go six feet under I'd like to see the band where it deserves to be. I firmly believe that people take their music with them throughout life. I mean, if you were a Judas Priest fan in your teen years and you can remember your first sexual encounter, your first cigarette, your first pint of beer, your first car and your first everything; if Priest was part of that, then chances are when you're 100 years old and in a rocking chair, you'll still be listening to Judas Priest. I'll definitely be listening to heavy metal when I'm an old codger. I'll be rocking that chair a lot faster and harder than the other guys!"
Gallery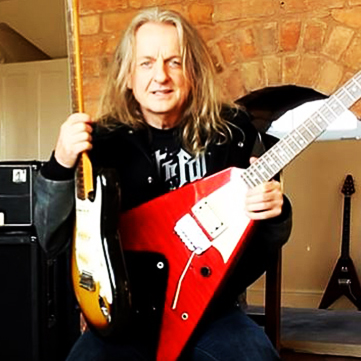 FIND OUT MORE
To discover more about one of heavy metal's most influential people, visit: